China reiterated the need to aggressively quash domestic Covid-19 infections and limit severe cases. The nation's strict measures have not hindered its economy, China's covid czar, Liang Wannian, said. 
Due to rising covid cases, German leaders plan to require companies to allow employees to work from home when possible and made urgent pleas for wider vaccine uptake. Austria is poised to broaden nationwide restrictions on unvaccinated people starting Monday.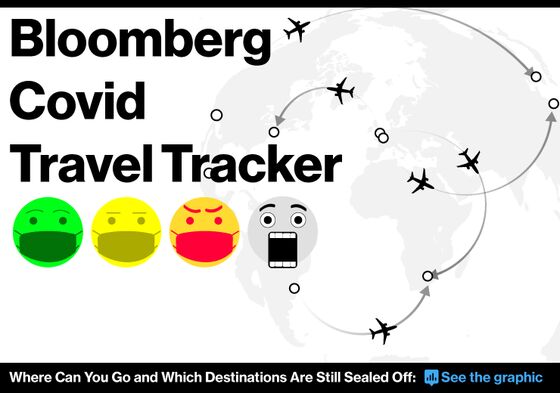 Germany Plans to Require Remote Work Option (3:20 p.m. HK)
Due to a recent surge in covid cases, the three parties negotiating to form Germany's next government plan to require companies to allow office workers to work from home where possible, Handelsblatt newspaper reported.
Germany recorded another 33,498 coronavirus infections in the 24 hours through Sunday morning, taking the total since the start of the pandemic above 5 million, according to data from the RKI public-health institute. The number of deaths rose by 55 to 97,672, while the seven-day incidence rate climbed to 289.
Cathay Tightens Crew Measures (11:20 a.m. HK)
Cathay Pacific Airways Ltd. said it will move its crew to a different hotel in Frankfurt after a pilot arriving from the German city to Hong Kong tested positive for Covid-19, the South China Morning Post reported. The airline will suspend layovers in the city as soon as possible, according to the report, and compliance checks at overseas stations will also be increased. 
China's Strict Policies to Stay (10:30 a.m. HK) 
China covid tsar Liang Wannian reiterated the need to aggressively quash domestic Covid-19 infections and limit severe cases. The nation's strict measures have not hindered its economy, Xinhua cited him as saying. 
Thailand Tourists Return (9:45 a.m. HK) 
Thailand's Prime Minister Prayuth Chan-Ocha said he is satisfied with almost 40,000 foreign tourists entering Thailand between Nov. 1-12 after the nation's reopening. 
Bangkok will allow internet cafes and game centers to reopen from Nov. 16 as daily new infections have fallen below 10,000 daily cases since late October, compared with the peak of 20,000 daily cases in August.
Australia Nears Vaccinating Young Children (5:30 p.m. NY)
Australia could begin its rollout of Covid-19 vaccines for children ages 5-11 in January, the Sydney Morning Herald reported.
In the clearest signal yet from the government for a start date, Covid-19 Taskforce Commander Lieutenant General John Frewen said doses of the Pfizer Inc. vaccine have been secured but aren't yet in the country. 
Austria Reported to Restrict the Unvaccinated (5:22 p.m. NY)
Austria's central government leaders, regional officials and lawmakers are expected to sign off on an initial 10-day "lockdown for the unvaccinated" on Sunday. People who aren't vaccinated against Covid-19 will only be allowed to enter stores to shop for necessities. They're already banned from pubs and restaurants, sports events and hair stylists. 
Austria has vaccinated 67.6% of the population with at least one dose, trailing the 69.6% rate across a group of 30 mostly European Union countries.
U.S. Weekly Vaccinations Highest Since May (4:32 p.m. NY)
The U.S. administered almost 10 million vaccine doses in the last week, the most since late May, the White House said on Saturday. By Wednesday, about 900,000 shots had been given to young children. Booster shots are outpacing first doses by far. 
Meanwhile, new U.S. infections for the week that ended Friday were the highest in more than a month, according to data compiled by Johns Hopkins University and Bloomberg. Daily deaths also increased slightly in the week that ended Friday compared with the previous seven days. Fatalities are almost 40% less than in early October. 
Singapore Eases Rules on Vaccine Records for U.S. Travelers (2 p.m. NY)
Singapore eased its rules for vaccination records for travelers from the U.S. The city-state will now accept a physical vaccination card along with a letter from the provider of the inoculation, the Straits Times reported.
The move came after travelers from the U.S. were served quarantine notices when they arrived in Singapore because their vaccination records weren't recognized.