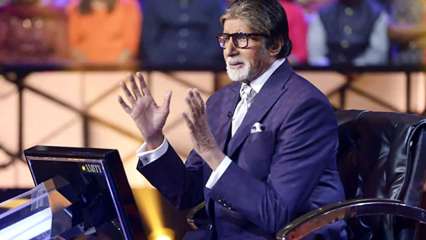 'Kaun Banega Crorepati 12', hosted by Amitabh Bachchan, just found its fourth crorepati. Dr Neha Shah has won Rs. 1 crore and will be playing for the jackpot question, for Rs. 7 crore, in the coming week.
Interestingly, instead of being excited to become a crorepati, Dr. Shah started flirting with Amitabh Bachchan. She sang 'Jiska Mujhe Tha Intezaar'. When Big B asked her if she was singing the song for a guy, she confirmed the song was dedicated to him.
Amitabh then reminded Dr. Shah that he is taken. The megastar is married to Jaya Bachchan for nealry 50 years and together they have kids – Abhishek Bachchan and Shweta Bachchan Nanda, and grandkids – Aaradhya Bachchan, Navya Naveli Nanda and Agasthya Nanda.
Dr. Shah responded to Big B stating that he should have waited for her a little longer. After winning Rs. 1 crore, she gave Amitabh Bachchan flying kisses and said that she's unable to concentrate on the game with him in front of her.
Here it is:
AB and our…