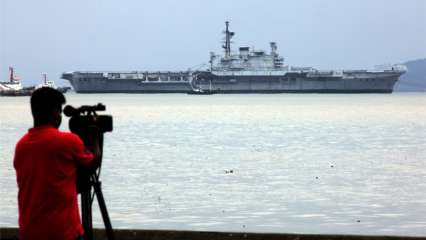 INS Viraat, decommissioned after service of 30 years, made its way to the ship-breaking yard in Gujarat from the  Naval Dockyard in Mumbai on Saturday.
It will finally be broken down and scrapped in the  ship-breaking yard
The second Centaur-Class aircraft carrier-in-service has spent 30 years in the Indian Navy and 27 years in the Royal Navy.    
it was decommissioned in August 2017.
The aircraft-carrier has set the world record in the Guinness Book of records, for being the longest-serving warship of the world. 
The ship has clocked more than 22,622 flying hours by various aircraft in the past three decades and has spent nearly 2,252 days at sea sailing across 5,88,287 nautical miles (10,94,215 KM). This implies that Viraat has spent seven years at sea, circumnavigating the globe 27 times.
Since her inception, she has had a total of 80,715 hours of boilers…