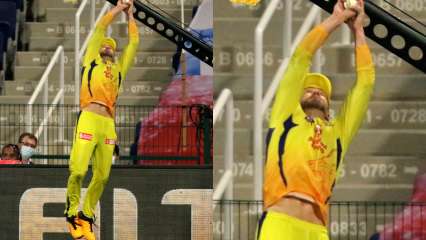 South African cricketer Faf du Plessis took two breathtaking catches during the much-awaited Mumbai Indians vs Chennai Super Kings clash in the IPL 2020 on Saturday (September 19). In the 14th over the match, du Plessis managed to pull off two magnificent catches to bring back CSK into the tie.
As Saurav Tiwary and Hardik Pandya started to rain hell on CSK bowlers, MS Dhoni decided to introduce Ravindra Jadeja back into the attack.
The allrounder quickly made his mark on the game by bagging two key wickets in the same over.
However, it wouldn't have possible without the boundary line heroics from Faf du Plessis. The South African first held on to a one-handed screamer and then juggled it in the air before holding on to it again.
Right after that, Faf once again leaped high and catch hold of Hardik Pandya's firmly struck shot on the boundary line once again,…