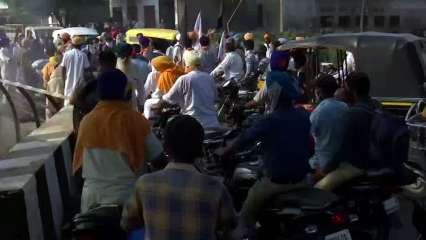 As the protests against the government's agricultural reforms continue, farmers in Punjab and Haryana held demonstrations against the Centre on Saturday.
In Punjab's Amritsar, the farmers burned an effigy and the demonstration led to a traffic jam.
Speaking to news agency ANI, a leader of the farmers, Gurbachan Singh Chabba said, "We are protesting and have burned the effigy of the government. If these bills, which are against the farmers of Punjab, are passed in the Parliament then the farmers will be destroyed and the Mandi system as well."
"These bills are anti-farmer and should not be passed in the Rajya Sabha. The bills are for enabling loot by big corporates and companies. We are protesting against this," he further said.
In Haryana, farmers and Aarhatiyas (commission agents) in Rohtak are staging a protest against the agriculture reforms bills passed by the…