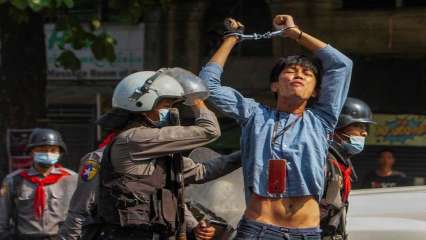 Myanmar troops fired at anti-coup protesters on Wednesday, killing at least 13 people and wounding several. Meanwhile, a Chinese-owned factory was set on fire in the commercial capital Yangon and activists burned the Chinese flag.
Security forces have killed at least 581 protesters and bystanders in their crackdown on protests against the February 1 coup that ousted the elected government of Aung San Suu Kyi, as per Assistance Association for Political Prisoners. Nationwide protests and strikes have continued since then despite the military's use of lethal force to quell the opposition.
Security forces opened fire on Wednesday on protesters in the northwestern town of Kalay as they demanded the restoration of Aung San Suu Kyi's civilian government, as per Reuters.
Video of the pre-dawn attack included the sounds of gunfire and grenade explosions. Social media posts said rocket-propelled grenades were fired. 
Anti-government protests continued in other cities and…