'I watch my Copa America final goal every night!' - Everton and Brazil hero Richarlison reflects on a year to remember
goal.com
---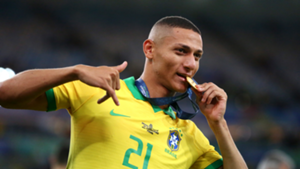 After a golden summer with his country, Richarlison is targeting more success with his club.
And for Everton, that is good news indeed.
The Blues forward is known more for his scowls than his smiles, in truth, but he cannot conceal his delight as he sits down with Goal for an exclusive, one-one-one interview to discuss his rise as a professional.
A rise which, quite simply, is showing no sign of slowing.
First on the agenda, naturally, is the Copa America, clinched by Brazil on home soil last month. Richarlison was one of the new-boys in Tite's squad ...
Read the full text goal.com