'Rosalind Franklin' Mars rover edges closer to launch
bbci.co.uk
---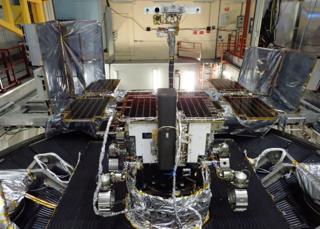 Europe's Mars rover, Rosalind Franklin, has just completed a key set of tests ahead of its planned summer launch.
The robot was put in a thermal-vacuum chamber by manufacturer Airbus for several weeks, to simulate the hot and cold conditions it will experience on the way to the Red Planet.
Further evaluations are now planned for the vehicle's various sub-systems.
The European Space Agency rover is scheduled to leave Earth sometime between 26 July and 11 August.
Rosalind Franklin - a joint endeavour with the Russian space agency - is being equipped with instruments to look for signs of present ...
Read the full text bbci.co.uk