Chinese builders held as toll in Cambodia building collapse rises to 24
theguardian
---
The death toll in a building collapse in Cambodia has risen to 24 and rescuers are continuing to search the rubble for more trapped workers.
As the search continued for survivors of the Sihanoukville disaster in on Monday, it emerged that three Chinese nationals involved in the construction had been detained while the collapse was investigated.
The unfinished, seven-storey building collapsed early on Saturday on top of dozens of construction workers who slept each night on the second floor.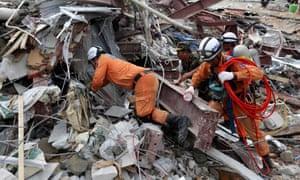 The condominium was being built in the thriving seaside town, which has been transformed in recent years by a mainly Chinese-led ...
Read the full text theguardian