Greta Thunberg and youth climate activists protest outside White House
theguardian
---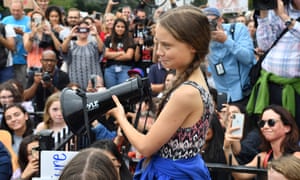 Swedish climate activist Greta Thunberg – who has inspired young people around the world to strike in protest of inadequate government action on the crisis – accompanied her American counterparts in the youth climate movement at a rally near Donald Trump's White House on Friday.
Thunberg quietly joined near the edge of the group, whispering along with chants and shaking her head when thanked by other advocates.
The protesters were so surrounded by reporters and TV cameras that they had difficulty beginning a planned march toward the White House. Thunberg fell back in the crowd. "We love you, Greta," fans yelled ...
Read the full text theguardian