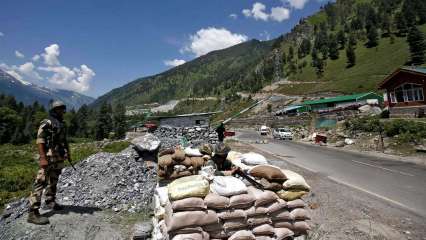 Residents of Chushul village in Ladakh are taking an arduous journey to a Himalayan mountain peak known as Black Top to provide supplies to the Indian Army engaged in a standoff with Chinese troops in a bid to safeguard their village from coming under Chinese control.
According to a report in The Guardian, 100-odd men, women and young boys with unwieldy and overstuffed duffel bags, rice sacks, heavy fuel cans and bamboo canes strapped to their backs are moving upward to Black Top, where hundreds of Indian army tents are stationed on the horizon.
They are not taking this journey out of kindness, reported Guardian. In the coming winter months, temperatures here will drop to minus 40 degrees Celsius.
The villagers fear that if they do not help the Indian Army secure their positions along the mountain ridges bordering China and help prepare the troops for the harsh winter…