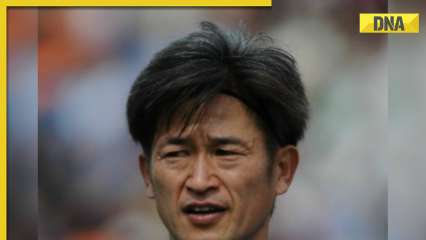 Known as 'King Kazu', this Japanese forward has had a mind-boggling professional career of nearly 4 decades.
It is generally at around 35 years of age that football players start feeling the toll of the game on their body. This is when most footballers decide to hang up their boots. Footballers like Cristiano Ronaldo and Zlatan Ibrahimovic are venerated for their longevity, playing at the highest level nearing 40. But have you heard of Kazuyoshi Miura, the 56-year-old Japanese star who is still playing professionally and refuses to retire?
Miura is arguably the oldest professional football player in the world. At 56, he is set to toil for another season in Portugal's Liga 2. The striker nicknamed 'King Kazu' made his professional debut 37 years ago. He had a long international career with Japan, which als ended 23 years ago. But Miura is not done just yet and has signed a new loan contract with Portugal club Oliveirense.
Earlier in the year, Miura set the record for the oldest…