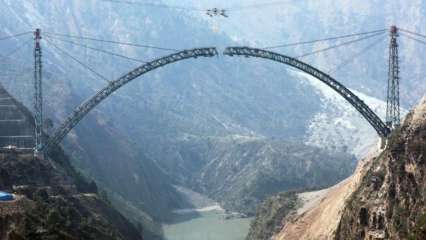 Railway Minister Piyush Goyal said that Chenab Bridge, a railway bridge in the making over Chenab River, will achieve another "engineering milestone".
Goyal said that it is being primed to be the world's highest railway bridge. It will be ready by March next year.
"Infrastructural Marvel in Making: Indian Railways is well on track to achieve another engineering milestone with the steel arch of Chenab bridge reaching at closure position. It is all set to be the world's highest Railway bridge," Piyush Goyal tweeted.
Infrastructural Marvel in Making: Indian Railways is well on track to achieve another engineering milestone with the steel arch of Chenab bridge reaching at closure position.

It is all set to be the world's highest Railway bridge  pic.twitter.com/yWS2v6exiP

— Piyush Goyal (@PiyushGoyal) February 25, 2021
Railway officials have stated that the bridge will stand 359 metres above Chenab's river bed and will be 35 metres taller than the Eiffel…