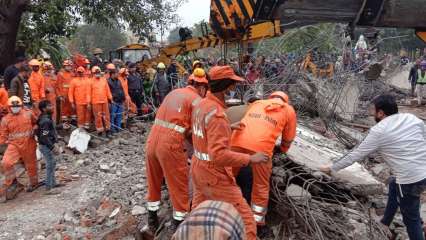 Ghaziabad: The death toll due to roof collapse at a crematorium in Uttar Pradesh's Muradnagar, adjacent to Delhi, has risen to 23. At the same time, 15 people are still struggling between life and death. Meanwhile, after the order of CM Yogi Adityanath, the administration has started investigating the causes of the incident.
According to the police, a concrete roof was being installed in the crematorium ghat complex in Muradnagar, Ghaziabad for the convenience of the people. For this, a linter was being put on the roof. Incidentally, many people had reached the crematorium to attend the funeral of a person named Ramdhan on Sunday.
At the same time, when the rains started, people took shelter under the roof of a recently-built structure to save themselves from getting drenched. However, minutes later, the roof of the structure collapsed.
The police reached the scene as soon as information about the incident was received and the work of evacuating the people started….